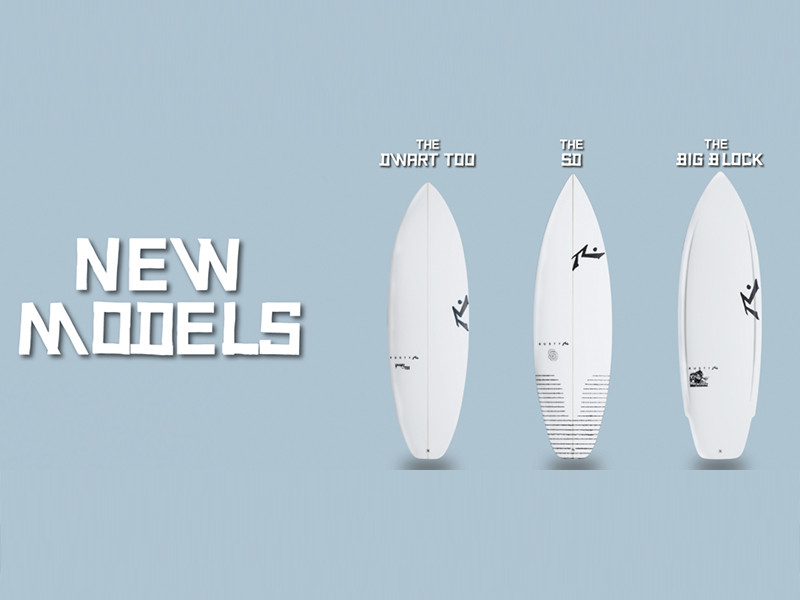 29-08-2017
Rusty Surfboards announces the release of 3 new models in Europe: the Big Block, the Dwart Too and the SD.
Xhapeland is your official manufacturer and distributor and is already taking in custom orders with direct and low-cost shipping across Europe.
Complete your Summer quiver with these new designs!
BIG BLOCK | Starting from 625€
If you're a fan of speed... The Big Block can find speed on the most humble, meek and meager little waves. The Big Block is a high volume surfboard with massive surface area that can generate speed easily and effortlessly through any section. Preferred in stringerless EPS/Epoxy, the Big Block model includes grab rails for strength and a carbon strip along the center of the bottom. Big Block versatility is increased by utilizing a tri-fin box system that works well with either a traditional thruster fin setup or the T1 twin-fin with trailer. "Super-fluid", "blindingly quick", "surprisingly responsive" are the most common comments from the Rusty crew that have ridden this clean little summer creation. Don't let another summer wave or meager day pass you by... get on board the Big Block.

CONSTRUCTION PU/EPS
FIN SET-UP Thruster
FIN SYSTEM FUTURES/FCSII
TAIL TYPE Round Square
CARBON Stringer stripes
WAVE SIZE 0-1,5m
SUITABLE SKILL Beginner, Intermediate, Advanced
DWART TOO | Starting from 625€
The Dwart has been a mainstay in Rusty's range for nearly a decade. One can't really build a "better Dwart", in fact plenty of people have tried and failed. Yet, with so many satisfied repeat customers Rusty decided it was time to expand the family... introducing the Dwart Too. The Dwart Too redirects the original mission a little bit and refines a well-tuned machine into a precision alternative. What did Rusty do to the Dwart Too? They gave it a squash tail, which increases the surface area in the tail and translates to more acceleration out of turns. They then narrowed the nose slightly, which allows the board to enter a turn faster. They increased the tail rocker a little, which makes the board turn tighter, and thinned (or foiled) the rails out to increase the hold and sensitivity at higher speeds. They also reconfigured the double concaves in the tail to create a more positive feel in a turn. And they did all this by giving up only 1 liter of volume in any given size, which means you have the option of losing a liter or going up one inch from the original Dwart. Want to get something new and fresh under your feet? Positive, responsive, loose, fast and free? The new Dwart Too should be the board for you...


CONSTRUCTION PU/EPS
FIN SET-UP Thruster/5-Fin
FIN SYSTEM FUTURES/FCSII
TAIL TYPE Squash
CARBON -
WAVE SIZE 0-1,5m
SUITABLE SKILL Intermediate, Advanced, Professional
SD | Starting from 625€
The new SD, or San Diego shortboard, is designed to be the ideal go-to shortboard for Southern California. The SD performs well in everything from the softer beachbreaks of Del Mar and Leucadia to the hollow reef breaks of La Jolla and Sunset Cliffs. Rusty took the predictable performance of the 'Yes, Thanks' and dialed it in for smaller, softer surf by adding volume, a little width, and an increase in thickness. The rails of the SD are foiled with a low apex. A crowned deck helps maximize the volume in this fun shortboard. The bottom of the SD has a deep single concave that allows the board to generate speed through the flats. Ride the SD 2-4 inches shorter than your traditional shortboard due to the additional volume, and enjoy the results of this looser, faster precision shortboard!

CONSTRUCTION PU/EPS
FIN SET-UP Thruster/5-Fin
FIN SYSTEM FUTURES/FCSII
TAIL TYPE Squash
CARBON Tail/rails patch
WAVE SIZE 0-1,5m
SUITABLE SKILL Intermediate, Advanced, Professional
ORDERS at sales@xhapeland.pt